When you dine at Eddie's Restaurant, you'll enjoy a tradition of family hospitality, great food and happy customers, that spans over 75 years and three generations. Over the years the rich and famous have passed through the doors, but to the Stewart family, every guest is a star. Quick, friendly service has been a way of life at Eddie's since 1934, when co-founders Eddie Stewart Sr. and his wife, Florence (Fifi), decided to open a seasonal hot dog stand. Eddie wanted a little sunshine and to be close to the water, so the couple picked a place they always loved: Sylvan Beach, on the the shore of beautiful Oneida Lake. While selling tasty dogs, Eddie and Fifi would sometimes enjoy a "hot ham" sandwich (spiced cappicola ham cooked on the grill). "The next thing we knew," said Eddie, "we changed to a barbecue stand, offering the original hot ham sandwich." Now, more than 75 years later, we still steadily serve hot dogs and hot hams, but are famous for our fish and Italian dinners, and of course, pleasing our wonderful customers.
Those customers have included Frank Sinatra, Duke Ellington and the Dorsey brothers. Sylvan Beach, known as "The Playground of Central New York", drew headline entertainers in those early years, so notables like Desi Arnaz, Harry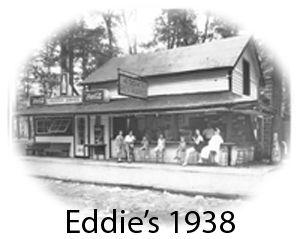 James and The Ink Spots dropped in too. Louis Prima cooked his own spaghetti and thanked Fifi by singing her a tune. Decades later, Liza Minelli came by for a friendly meal while filming "The Sterile Cuckoo", the movie that launched her career.

Plenty has changed over time. The eight stool hot dog stand that began as a remodeled train depot is now a bustling restaurant that can seat 250. But don't worry, at Eddie's you'll always be treated like family. As our guest, you'll enjoy delicious American and Italian cuisine, including the freshest fish, all made with care from quality ingredients. Don't forget a piece of home-baked pie or a refreshing ice cream dessert. And after dinner, stroll behind the restaurant to the beach and watch the sunset paint the sky over the quiet beauty of Oneida Lake. There's no better view than from the spacious patio at Harpoon Eddie's, a casual beach-front restaurant opened by the Stewarts in 1985. Harpoon Eddie's can cater your special event on or off the premises.
While Fifi and Eddie Sr. are no longer with us, their legacy lives on in son Eddie Jr. and his wife, Leslie, grandson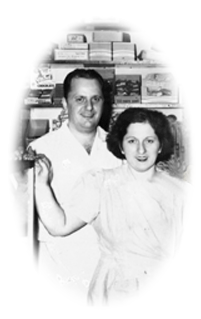 Rick (Edward III), his wife Jobie and granddaughter Alison, and so many loyal employees. The entire family and staff share the values of commitment to Sylvan Beach, strong work ethic, and integrity that Fifi and Eddie taught with great love. Together, we are dedicated to carrying on this legacy by giving you, our valued customers, the same quality "Eddie's experience" for years to come.
And if a day trip to Sylvan Beach is not enough, Sunset Cottages is the ideal place extend your stay. The Stewart family has renovated historic Sylvan Beach cottages and added newly-constructed units. It's where families are reliving their Sylvan Beach memories of yesteryear.
So enjoy your time in Sylvan Beach and your meal with us at Eddie's. We hope you will take home a memory that brings you back again and again.


Eddie's Restaurant - 901 Main St - Sylvan Beach, NY 13157